Jörgs Windows 3.x Page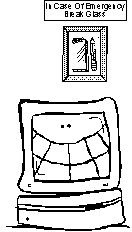 "Who needs to go through Windows when he can have a door?" (Author unknown)
Windows What?
A few thoughts from a Linux User
Note: The material on this page is no longer updated and I keep this page merely for reference purposes. Be warned that many links on this page may go stale over the years.
Linux is the main, and usually the only, operating system on my PCs. Yet, for many years I still kept a multi-boot system between Linux, MS-DOS 6.22/Windows for Workgroups (WfW) 3.11 and MS-Windows 98: The reason was that I have a few old legacy applications where a Linux equivalent does not exist. Edit: As of 2016, the MS-DOS 6.22/Windows for Workgroups (WfW) 3.11 system has been moved to a virtual machine in VirtualBox, and the original computer has been decommissioned.
WfW still gives a lot of functionality for home use and this on low-end hardware - after all, generations of students have composed their diploma work and PhD thesis on such machines. If you need a graphical interface for your daily work, Windows 3.x is certainly one of the products with the lowest hardware demands. A de-commissioned 486DX2/66 with some 16 or 32MB RAM is all you need and even surfing the Internet is not a problem with such an old machine. Even the most convinced Linux user will admit that hardware requirements for Linux running X-Windows are close to that of MS Windows XP.
Of course, it has its bugs (link is dead). Decide yourself if the more recent version are worth the price - and be sure to read the manufacturer's license agreement and disclaimer(s) first.
From "a few" years of experience: Here's my collection of hints around MS-DOS (from version 5 onwards) and Windows 3.1 and 3.11.
Contents