Jörgs Linux Pages: GPS Software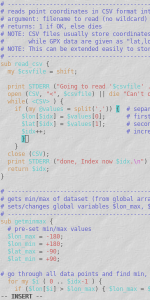 There are no road signs to help navigate. And, in fact, no one has yet determined which side of the road we're supposed to be on. - Steve Case
This is a short "How-To" on using Garmin MapSource inside a Linux system, including use of the USB connection to the GPS receiver. Essentially, it makes use of a virtual system based on VirtualBox that is running Microsoft Windows XP as "guest" on the Linux "host".
This description was first written for Fedora Linux 8, then adapted to Fedora 11 and Fedora 14. Since the same principles apply to other Linux systems, I did not specifically update this page for Debian-based systems — you will simply use apt instead of yum and adjust the commands accordingly.
For most GPS data conversions, I use GPSBabel. However, for specific cases I usually write specific scripts. Here are some of them.